Facebook – Want to Control your Thermostat
November 14, 2012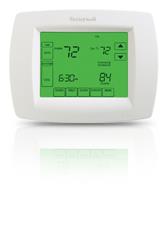 Want to Control your Thermostat with your Mobile Device, Tablet, or PC?
Introducing the Honeywell WIFI VisionPRO 8000 Thermostat
Honeywell's WIFI VisionPRO 8000 is effortless to use. Its intuitive logic and menu-driven programming respond to your choices and schedule for optimal comfort and energy savings. VisionPRO offers you top-of-the-line features like touchscreen interaction, a real-time clock, and a large, easy-to-read backlit display. This WIFI VisionPRO 8000 brings Honeywell Quality and Reliability into your Home or Office at a Great Price.
• Remote access to the thermostat through a smartphone, tablet or computer
• 7-day programmable or non-programmable
• Up to 3H/2C heat pump; 2H/2C conventional
• Filter, Humidification Pad and UV reminders
• Large 10-square-inch touchscreen display
• Real-time clock
• Requires common (C) wire
• 5-Year warranty
The WIFI VisionPRO 8000 works with the Total Comfort Connect application and runs on any mobile device, tablet, or PC.
Think about how nice it would be to be able to check and adjust the temperature in your home while you are at the office or away on vacation!
Check out the Video to see how simple it is to set up.
Stop into Control Depot to see one of our Demos and find out More!
http://www.youtube.com/watch?v=3lGiRfWJA6c&feature=youtu.be