Samsung Mini Splits Size and Flexibility are ideal for Zoning, Heating and Cooling
December 14, 2017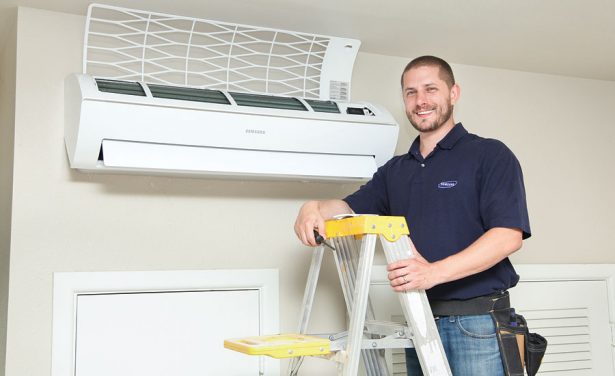 According to the Federal Department of Energy, the air conditioner can be the biggest consumer of energy.  Even though it only runs a couple months out of the year, homeowners can easily spend upwards of $1000 in energy utility bills while trying to cool their homes.  Heating can also be an enormous drain on the pocketbook, especially here in Nebraska!
Most homes and businesses use what is known as a traditional heating and cooling system, which is one of the reasons why their bills are so high. These systems work by feeding air through ducts to separate rooms throughout the home or office. The temperature for the whole house is set by one thermostat and the system works to stabilize the temperature for every room. The idea is that if it's 70 degrees in the kitchen, it will be 70 degrees in the living room and bedrooms. However the typical duct system can waste as much as 30% of the energy used in the process of heating or cooling your home. This energy can be lost in the ducts or unevenly distributed between the rooms while trying to maintain an even temperature throughout the home, resulting in a higher utility bill.
So what are the alternatives?  Here at Control Depot, we usually recommend a mini split.  A mini split unit is a way to heat and cool your home or business without ductwork. It gives you control of the temperature for each individual room using energy in the most efficient way and lowering your monthly utility bill. They are great for add-on rooms such as a sunroom or garage because they do not require added ductwork and can be turned on when the room is in use and off when it is not.
Not only is a mini split system more energy efficient, but it also runs more quietly than a traditional unit, which is ideal for businesses who don't want meetings disrupted by the heat or air kicking in. The technology behind these heating and cooling units makes these systems quick and easy to install and maintain. By connecting the system to your smartphone, you can even be notified if there are any issues, when it's time to change the filter and to track your energy savings.
Mini split systems save you money in the long run by lowering your monthly utility bill and being energy efficient. We are able to offer a few different styles by Samsung at Control Depot that give you the most versatility in your space, whether you prefer a wall mounted unit, a ceiling mount or one neatly tucked away in a cabinet.  All units are made to blend seamlessly into any design aesthetic.
At Control Depot, our experienced staff strive to be the best and most knowledgeable in the business. We can assist you in building a temperature control system to meet your residential or commercial needs.  To set up an appointment with one of our knowledgeable consultants, call us at (402) 934-0078.